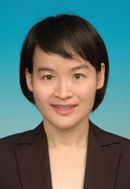 姓名:于欣妍
职称:讲师
邮箱:yuxinyan@cuc.edu.cn
教育背景
理学硕士(基础数学),
工学博士 (计算机科学与技术);
讲授课程
本科生课程:《泛函分析》、《实变函数》、《复变函数》、《高等数学》等;
研究生课程:《泛函分析》、《现代数学基础》等;
奖励与荣誉
优秀班主任,优秀共产党员;
研究领域
图像处理、机器学习、抽象空间、最优化理论等;
研究课题
参加视频压缩感知理论方法研究(3132016XNG1612),校级(理工科规划项目),在研(2016.04-2018.04);基于压缩感知的核磁共振成像问题驱动的应用数学研究(11571325),国家级(国家自然科学基金面上项目)等科研项目的研究;
学术成果
[1] Lyu G, Yin H, Yu X, et al. A Local Characteristic Image Restoration Based on Convolutional Neural Network[J]. IEICE Transactions on Information & Systems, 2016, E99.D(8):2190-2193.
[2] Zeyang Dou, Kun Gao, Bin Zhang, Xinyan Yu, Lu Han , Yuzhu Zheng Realistic Image Rendition Using Variable Exponent Functional Model for Retinex , Sensors , 16(6): 832 (2016).
[3] Zhu Y G, Yu X Y, Zhang B, et al. A nonlinear diffusion model for image restoration[J]. ActaMathematicaeApplicataeSinica, English Series, 2016, 32(3):631-646.
[4] ZeyangDo, Bin Zhang, Xinyan Yu, Blind image restoration and segmentation via adaptive norm regularization and Mumford-Shah edge indicator Proceedings of 8th international symposium on computational intelligence and design 2015, Hangzhou, 634-638.
[5] Xinyan YU,Guohao LYV,Siwei Luo,Junbo Liu. A Convolution Neural Network Based Variational Restoration Model, ICWMMN2015 Proceedings,282-287.
[6] Xinyan YU, Xiaoyue Luo, Siwei Luo, Guohao LYV, A Regularization Method for Image Restoration Based on the Inherent Geometrical Features, Journal of Computational Information Systems2015,Vol.11(16):5807-5815.
[7]于欣妍, 罗四维, 许廷发, 王亮, 王胜春. 铁路运行环境下的车载相机姿态估计, 光学技术, 2015, 41(3):97-103.
[8]于欣妍, 王亮, 罗四维. 一种基于微分流形的图像复原方法,北京交通大学学报,2015, 39(5):1-8.
[9]ZeyangDo, Bin Zhang, Xinyan Yu,New Algorithm Based On Alternating Minimization Algorithm Of Ambrosio-Tortorelli Model, ICWMMN2015 Proceedings,2015,181-184.
[10]Xiang Bi, Xinyan Yu, Zeyang Dou, Yonggui Zhu, A New Newton Method For Anisotropic Diffusion Model in Image Denoising, 2nd ACIS International Conference on Computational Science and Intelligence ,2015,442-446.
[11] Xinyan YU, Xiaoyue Luo, Siwei Luo,Yaping Huang, A Regularized RestorationModel Based on Geometrical Features and Noise Evaluation, Proceedings, IEEE 12th International Conference on Signal Processing ,2014,1016-1021.
[12]Yonggui Zhu, Yuying Shi, Bin Zhang,Xinyan Yu, Weighted-Average Alternating Minimization Method For Magnetic Resonance Image Reconstruction Based on CompressiveSensing, Inverse Problems And Imaging, 2014, 8(30):925-937.
[13] 朱永贵,杨晓兰,于欣妍. 小波稀疏的MIR图像重构的交替最小化算法,第十五届全国图象图形学学术会议论文集,清华大学出版社,2012年10月.